President H. James Williams, Ph.D. provides a message of reflection for students, faculty, and staff as we approach the end of the Academic Year.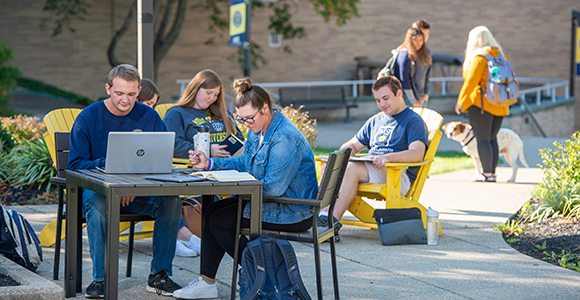 May 2, 2022
Mount Students, Faculty, and Staff: 
Congratulations on another outstanding Academic Year!  Time-and-time-again, through historic challenges over the past few years, the Mount community has embodied inclusivity, responsibility, engagement, and – above all – resilience.  
To Mount students completing final examinations this week, I wish each of you the best of luck.  Although it has been many years ago, I still recall, vividly, the stress and pressure that can accompany the end of an Academic Term.  Please remember to take care of yourselves and each other during this demanding time. 
To Mount faculty and staff, I know how hard each of you works to provide students an amazing Mount education and experiences, and I know that your workloads often increase at the end of the Academic Year.  I am lost for words to fully express my gratitude for your commitment and dedication to this precious Mount Community, especially, to Mount students.  Thank you for all you do to make the Mount such a special place; I do hope each of you makes time to rest and recuperate after we close out this fantastic year.   
To this semester's graduating students, we are so incredibly proud of you and your accomplishments!  Soon, you will become a part of a vast network of Mount alumni who are on a mission to excel professionally and to make a meaningful impact on the communities where they live and work.  I look forward to seeing each of you at the Baccalaureate Mass on Friday evening, and to standing with you as you walk across the stage during the Graduation Ceremonies on Saturday.  Please know that your Mount family will remain in touch and will always welcome you home with open arms and open hearts. We know that you are prepared for the next chapters of your lives and we look forward to watching you climb higher. 
Summer is a special time that allows Mount faculty and staff to reflect, innovate, and prepare for the coming Academic Year.  As always, the faculty and staff look forward to sharing with all continuing and incoming students the buzz of intellectual, cultural, and social exchanges that emerge on campus, beginning with each August. 
John Marshall, III said it well – "Life is a circle.  The end of one journey is the beginning of the next."  Whether you are graduating, continuing in your academic pursuits, or are one of the Mount's amazing faculty and staff, the close of this Academic Year definitely marks the end of one journey and the beginning of the next promising one. I wish each of you a joyful, restful, and safe summer.  As University President, it is my great privilege to share a portion of your life's journey with you; I thank you for that privilege. 
Take care and GO LIONS!!!
Sincerely,
H. James Williams, Ph.D.
President