Mount St. Joseph University proudly announces the January "Pride of the Lions" is the Institutional Advancement Team!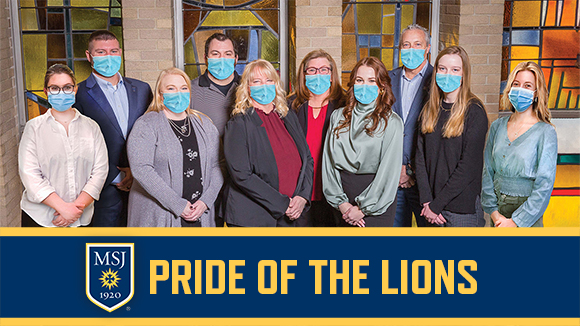 Congratulations to the Institutional Advancement (IA) Team, the University's "Pride of the Lions" for the month of January, 2022! For the past nine months--despite the Pandemic and challenging internal organizational disruptions--the group has been able to focus their efforts and energies on the fundamentals of development activities, including fundraising, alumni engagement, and friend-raising!
The Team finished the 2021 Fiscal Year in a rush, raising almost $4.2 million, including more than $1.3 million that went directly to support the University's Operating Budget. Moreover, as of January 18, 2022, it has already raised almost 95 percent of a $1.35 million goal for Operating dollars, and more than 63 percent of a $4.1 million overall target.
In addition, through consistent, compelling fundraising, via face-to-face, regular mail, email, and other digital solicitations, the IA Team provides critical scholarship support for Mount students, raising, on average, annual and endowed scholarships totaling more than $700,000 per year. The group has already raised more than $96,000 for this year's Jubilee! Finally, the IA Team continues to engage alums, including growing the number of Alumni Advisory Counsel members and realizing a tremendously high open rate for its digital newsletter, "Around the Mount!"
Please join me in saluting and thanking the members of the Institutional Advancement Team! Go Lions!
Sincerely,
H. James Williams, Ph.D.
President