PRESIDENT H. JAMES WILLIAMS, PH.D., PROVIDES A THOUGHTFUL REFLECTION ON THE UNIVERSITY'S COMMITMENT TO EMBRACE DIVERSITY OF CULTURE AND BELIEFS THIS HOLIDAY SEASON.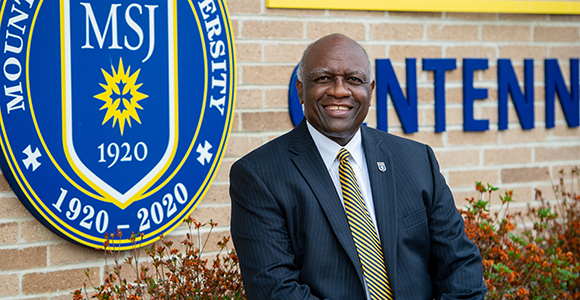 December 6, 2021

Dear Students, Faculty, and Staff: 
The holiday season is upon us, and members of our community worship and celebrate in various ways.  With our mission focused on embracing a diversity of cultures and beliefs, I was struck by a letter I recently received from the Honorable Mike DeWine, Governor of Ohio, expressing his concern for Ohio's Jewish university students.  Governor DeWine shared cases of anti-Semitic and anti-Israel sentiments reported on campuses across Ohio and the United States.  He expressed his deep concern and called upon all colleges and universities in Ohio to address this unacceptable conduct towards our Jewish students.
As an institution, the Mount enforces a zero-tolerance policy for discrimination or harassment of any kind, based on race, color, national origin, religion, sex, age, disability, sexual orientation, gender identity, veteran status, or other minority or protected status.  No student should ever be fearful of discrimination or harassment on our campus or any campus in the United States.  Our Equal Opportunity and Non-Discrimination Policy outlines the conduct expectations of members of the Mount Community and the process for reporting incidents of possible discrimination or harassment should they occur.  
A commitment to diversity, equity, and inclusion has long been part of the fabric of the Mount.  Yet, in recent years, we have demonstrated this commitment more tangibly.  In 2018, the Mount established the Office of Diversity & Inclusion and the Interfaith Chapel, which represent the University's commitment to the growth of the campus environment in a manner that respects each person and faith and places tremendous value on our differences.  In March of 2021, we established the Mosaic Cross-Cultural & Inclusion Center (nicknamed "The Family Room" of the University) as a safe space for students from all backgrounds and beliefs to come together to explore ways to create and inspire meaningful change. These are significant improvements to our campus that have strengthened us all and will continue to do so for years to come.  
As an institution of higher learning that is grounded in spiritual values, we are committed to supporting Governor DeWine and other institutions of higher education across Ohio to embrace religious freedom and to stamp out all forms of discrimination, harassment, and hate.  Especially during the celebration of Hanukkah, we ask God's blessings on the Jewish Community, and we pray that all of us at the Mount will garner the courage to embrace religious freedom as we serve the common good – and "Climb Higher, Together!"
Sincerely,
H. James Williams, Ph.D.
President