MSJ graduates, Nina and Ryan Averbeck share their Mater Dei Love Story.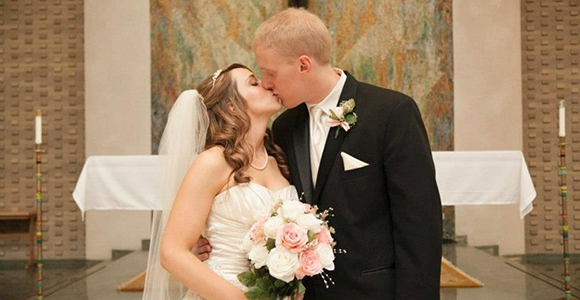 From allowing them to flourish in similar professional careers to bringing them together for nearly a decade, Mount St. Joseph University holds a special place for Nina and Ryan Averbeck.
Nina, a Cincinnati native and Ryan from Independence, Kentucky, both chose the Mount for the smaller close-knit college experience.
Both graphic design majors, Nina and Ryan met in the fall of 2007 at the Mount when he was a junior and she was freshman. He was the president of graphic design club at the time, and Nina was eager to jump right in and get involved in some extracurricular activities.
Fast forward to nearly two years later when they ended up in a digital photography class together.
"Facebook was booming at the time and I realized we hadn't become friends yet," Nina exclaims. "So, I sent a friend request and he accepted!.He started messaging me and we both quickly realized we had SO much in common and the rest is history! We dated for three years and tied the knot at the Mount on October 13th, 2012--Just celebrated nine years married-- headed toward a decade."
Growing Together Personally and Professionally
The night of her graphic design senior thesis in April of 2011, Nina and Ryan met up with a prior MSJ design grad (Nina's now best friend). She had recently bought her first home and recommended her realtor to them since they were considering looking at buying a home after Nina's graduation.
The Averbecks ended up finding a home by September of that same year. Ryan excitedly decided to propose to Nina just a couple days before they closed on their home.
"He popped the question at the top of the staircase in the house and our family came rushing out of the bedroom where they were all hiding and waiting for me to hopefully say "of course" to his proposal," she says. They were married just over a year later.
The MSJ couple has spent the last nine years growing together professionally and beyond. As for their professional lives, Nina and Ryan have progressed within the design industry ever since, and while they do not have children yet, they are on the horizon.
Meeting in a small college in such a big world, Nina and Ryan are both grateful that the Mount brought them together and molded their career paths, as well as the opportunity to get married within their alma mater.
"In such a big world we are both so grateful to have met and gotten married at MSJ," says Nina. "The Mount was basically the catalyst for everything amazing that has happened in our journey together. What a blessing!"
Interested in hosting your wedding at the beautiful Mater Dei Chapel? Visit the Mater Dei Chapel page to submit a wedding inquiry form.