President H. James Williams and First Lady Carole C. Williams offer a Christmas greeting to the Mount St. Joseph University community.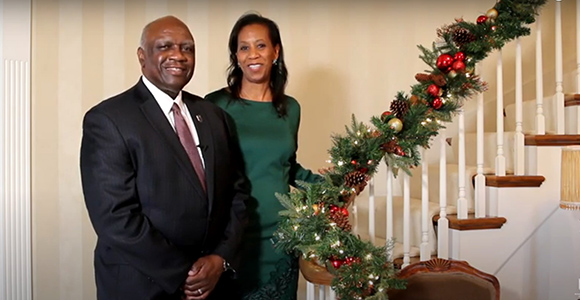 Dear Mount Community:
Carole and I want to take a few moments to express our holiday greetings to our Mount St. Joseph University Family. 
From the moment we arrived on Campus—more than 6 years ago, now—we have been showered with kindness, friendship, and love from the entire community: students, staff, faculty, alumni, the Board of Trustees, and the Sisters of Charity. If we've learned anything from our time with you, it's that the Mount is more than just a place to learn and work, more than a beautiful campus, more than athletic and extracurricular events. It is about love, through the meaningful, life-long relationships we develop and the respect and concern we share for one another each and every day. This differentiates the Mount, and makes it so incredibly special. 
Christmas is the ultimate celebration of the most incredible act of love. John 3:16-17 says, "For God so loved the world that he gave his one and only Son, that whoever believes in him shall not perish but have eternal life. For God did not send his Son into the world to condemn the world, but to save the world through him." The true meaning of Christmas is the celebration of this incredible act of love.
In closing, Carole and I would like to share a short Christmas prayer: 
Lord, in this holy season of prayer and song and laughter, we praise you for the great wonders you have sent us: for shining star and angel's song, for infant's cry in lowly manger. We praise you for the Word made flesh in a little Child. We behold his glory, and are bathed in its radiance.
Be with us as we sing the ironies of Christmas, the incomprehensible comprehended, the poetry made hard fact, the helpless Babe who cracks the world asunder. We kneel before you shepherds, innkeepers, wise men. Help us to rise bigger than we are. Amen.
May each of you and your loved ones enjoy a healthy and joyful holiday season. Merry Christmas and Happy New Year! 
Sincerely,
H. James Williams, Ph.D.
President
Watch a special Christmas message from President H. James Williams and First Lady Carole C. Williams.