After her transfer to the Mount, Communication and New Media Studies sophomore Grace Ertel joined the MSJ football team, and is also a Learning Center tutor.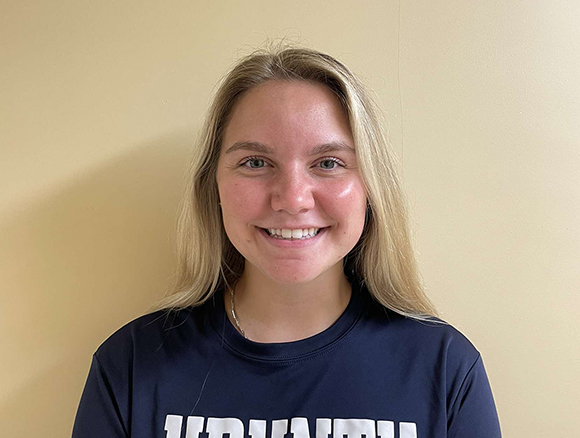 What is your year and major?
I am currently a sophomore studying Communication and New Media Studies with hopes to get into journalism some day.
Why did you choose the Mount?
I came to the Mount to kick for the football team.
How did the Mount Admission team help accommodate your transfer needs?
I thought transferring colleges was going to be hard, but the MSJ Admission team helped accommodate all my needs, and got my classes scheduled within a few minutes.
Are you involved with any on-campus activities/clubs/co-op/athletics? If so, please share.
There are a lot of on-campus activities available to students. I am currently not involved in any clubs, but I play for the football team and work as a tutor in the Learning Center. Football has been a different experience than high school; still fun, but more competitive, and I have been coming back from an ACL injury. Working in the Learning Center has been fun too, if students need help they come in; it is a good way to get to know people and make a little bit of money at the same time.​
What has helped you be successful at the Mount?
The biggest thing that has helped me out at the Mount is the relationships I have made with people. I think that is possible because it is a smaller school, classes are smaller, and all the faculty are here to help and will if you reach out.​
What advice would you give to someone looking to transfer to the Mount?
If someone were looking to transfer to the Mount, I would tell them that it is a great school to make personal relations with a lot of people because it is smaller and you will get to know a lot of people.
How do you manage your course load with a job/and or your personal life?
Managing your course load by itself can be a little tricky at first, but will get easier within the first couple weeks once you get a feel for how each professor structures assignment due dates. What I like to do is make a list of all my assignments with the due date and time next to each one, then color code by the day, that way I can see everything in one list and make sure I get everything in on time. Once you throw a job and personal life into that mix, the assignments may start to pile up, so try not to let that happen.​
Check out the Communication and New Media Studies page to learn more about Grace's major where you'll learn to persuade, influence, negotiate, generate, and adapt ideas.