President H. James Williams, Ph.D., offers a friendly greeting to the Mount St. Joseph University family before Thanksgiving break.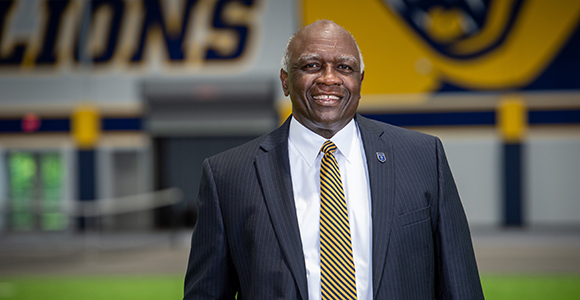 Dear Mount Community,
Another Thanksgiving week is upon us. For many, this time of year is busy visiting with family and friends, enjoying hearty meals, cheering on our favorite football teams. It also means that on campus we are preparing for the final academic push of the semester: projects, papers, exams, and end-of-calendar-year tasks. I encourage each of you take good care of yourself over the holiday break and to rest, and rejuvenate, so we all return ready for the demands and excitement that comes with the end of the academic term.
During this season of gratitude, I want to express my thanks for all of our students, faculty, staff, and alumni—all of whom contribute in countless ways to make the Mount a truly special place. These last couple of years we have been challenged by unprecedented events beyond our control, only to see our community to grow stronger than ever.
I also want to express my thanks for our foundresses, the Sisters of Charity of Cincinnati. For nearly 170 years the Sisters of Charity have been an inspiration in all of our spiritual lives. From taking care of orphaned children during the last pandemic, to providing one of the first avenues for women to receive a post-secondary education, the Sisters of Charity have always walked in God's footsteps, filling our community with God's love.
On the other hand, I also recognize that this time of year may be challenging for some. While it is joyful, the holiday season can also bring on, or heighten, feelings of stress, anxiety, loss, and depression. The respect and concern that we demonstrate for others has always been a hallmark of the Mount Community, and I encourage you to take care with friends and colleagues who may need support our and encouragement during this season of thanks.
Carole and I are forever grateful for our Mount Family, and to be part of this phenomenal community. May all of you have a blessed Thanksgiving with your family and friends.
Happy Thanksgiving, and Go Lions!
Sincerely,
H. James Williams, Ph.D.
President
Watch a special Thanksgiving message from President Williams.
Tuesday, November 23, 2021