Mount St. Joseph University hosts its first-ever MSJ Comedy Night Series.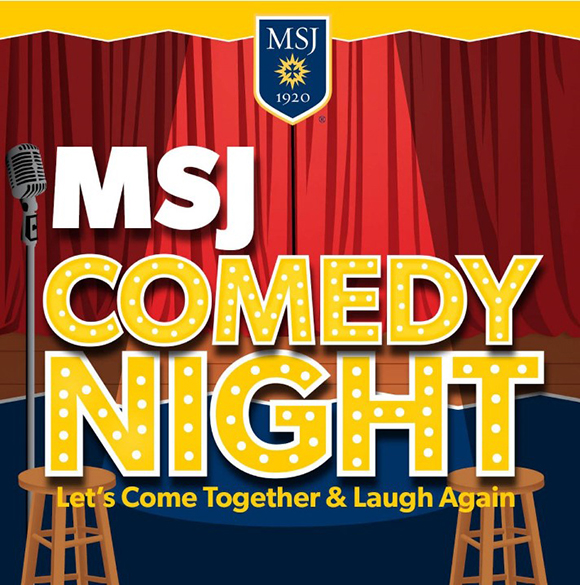 It's time to come together and laugh again with southern charm, catchy tunes, and inspirational stories told in comedic wit.
Mount St. Joseph University excitedly presents its first Comedy Night Series on Saturday, November 20th, 2021 in the University Theatre, welcoming two world-class clean comedians, Tracy DeGraaf from Chicago and Rik Roberts from Nashville, for an affordable evening of fun entertainment.
"The Mount is known for serving our community," says Katrina Kenton, Director of Auxiliary Services at the Mount. "We wanted to meet their needs, and realized that smiles and laughter are part of a universal language of happiness! As a result, we created the "MSJ Comedy Night Series" where, every couple of months, we will bring in comedians from around the country for your enjoyment."
Inspiration meets comedy with Tracy, who is excited to present her one-woman show, "Life Happens Laugh Anyway," as she shares great stories about her family, raising her five sons, and life as a Survivor. "My inspirational comedy event combines two of my passions: Christianity and breast cancer awareness," she says. "Let's laugh together!"
As for Rik, he brings his southern charm and his guitar to the stage as he shares unique perspectives of the world we live in with quick wit and catchy tunes, guaranteed to get stuck in viewers' heads long after the show. He loves audience participation activities, so who knows, he might just call on an audience member.
There will be two show times offered at 2 p.m. and 7 p.m. for guests' convenience, lasting approximately two hours with an intermission. Guests will even have an opportunity to meet and greet the comedians after the show.
"We have an amazing line-up scheduled through Summer of 2022, and cannot wait to kick this off on November 20th," Kenton adds. "My hope is this will give our community something to look forward to, and bring us all together."
Ticket and Contact Information
Get your tickets now for the best seats:  http://www.msj.edu/comedy​ 
Show Times: November 20th, 2021 at 2 p.m. and 7 p.m.
Location: MSJ University Theatre
Contact: Katrina Kenton, Katrina.Kenton@msj.edu or 513-244-4327 for more information.
Hope to see you there!