An Alumni Advisory Committee member provides his journey to reconnecting with the Mount after several years.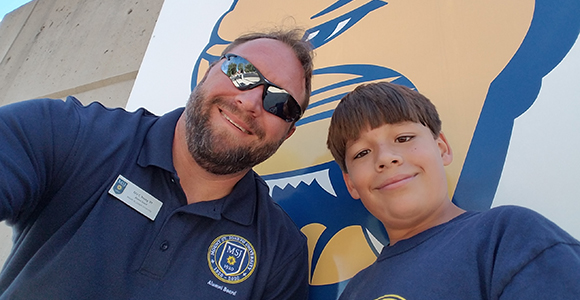 "I didn't know you went to the Mount."
I'd worked directly with this colleague for close to a year and indirectly for a few more. She could have probably cited the names of my family, ages of my kids, or favorite dives for Friday lunch. But when a manager shared a screen shot of me speaking in May on behalf of the Mount St. Joseph University Alumni Advisory Committee at the postgraduate commencement ceremony, she learned for the first time that we are fellow alumni.
It's a conversation I've had on occasion since graduating in 1997 with a B.A. in English, a degree that led to a successful career in marketing and communications. At some point, either I or somebody close to me has that "aha" moment when we realize our common alma mater.
Almost all alumni that I meet speak about their experience at the Mount with fondness and pride, as do the classmates and professors with whom I've stayed in touch over the years. The professors, classmates, coaches, and administrators I met along the way made a great impact on my life. In fact, to this day I credit Dr. Barkley with the nudge toward writing that helped me discover a skill and a passion and set me on a career path that has been great for me.
There are more than 20,000 of us, and I'd wager most feel the same way and can share similar stories. Still, I've never felt the sense of our alumni wearing our shared pride on our sleeves relative to other local colleges and universities. Of course, this isn't necessarily true for everyone, and is perhaps my perception is shaded by my own experiences as I "moved on."  
I'll admit that I didn't pay much attention to the Mount for almost two decades following graduation. This wasn't a conscious choice. It's just that life after college goes on, and home and work life haven't always left much time for other endeavors, including maintaining past relationships, no matter how important they may be. It's funny how easily "I'll get around to it" never happens.
That all changed in 2017 after attending my first Mount Jubilee and subsequently joining the Mount's Alumni Board, which has since been renamed the Alumni Advisory Committee. My involvement increased while serving as the committee president for the past two years. I've enjoyed meetings and events on campus since getting involved. I've proudly introduced my family to the Mount community through events such as homecoming and the alumni Christmas party.
Most importantly, though, I've reconnected with a community that has played a significant role in my life, and I can see first-hand how the University has grown to meet the needs of students in the twenty-first century through expanding programs, developing technology and newer modern facilities. All the while, the Mount has remained grounded in the sense of faith and service that have always made it a special place.
I've developed friendships and a great deal of respect among fellow committee members and especially the talented team in the Office of Alumni Relations. Over the past few years, this group has made great strides in supporting the Mount and building awareness among our alumni base of the great things happening at the school.
The crowning achievement, however, has been the establishment of an endowed Alumni Board Scholarship Fund through the hard work of committee members present and past. The fund helps deserving students take advantage of all the Mount has to offer and reach for their own goals, as we were once given the opportunity to do.
There is a lot to do, however, as we continue to support the Mount with a focus on growing the scholarship fund and creating greater awareness and a feeling of welcome and belonging among the alumni base. I regret staying away for so long, and I hope our work will help current and future alumni get involved and stay involved themselves.
I urge the students who are reading this to come back early and often. Make sure the Alumni Relations Office is up to date on your contact information. Follow the Mount's current events on social media and through newsletters. When I'm around campus, I still feel that spirit of a tight knit community, and would love to see future alumni continue that spirit beyond graduation take it into the community. In doing so, hopefully years from now you'll have fewer conversations that begin with "I didn't know you went to the Mount."   
Eric Young was a Dateline contributor in 1995-1996 and associate editor in 1996-1997