Join Mount St. Joseph University as it kicks off its annual Homecoming event on October 12!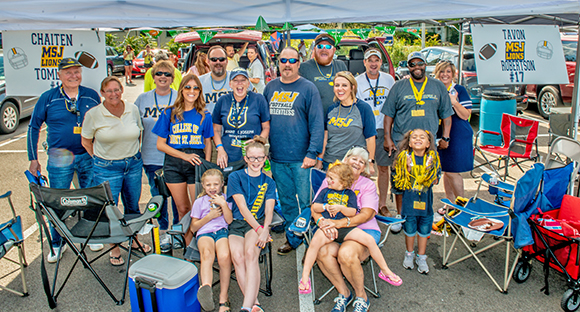 Beginning on October 12 through October 17, the Office of Alumni Relations at Mount St. Joseph University is excited to welcome alumni and their families back to campus for its annual Homecoming celebration! 
This year, the Mount will host a number of both virtual and in-person events throughout the week.  As always, the Homecoming tailgate on October 16th is a family-friendly event, with lunch and drinks provided. Registration is required for lunch.
Homecoming serves as a way each year to bring our alumni back "home" to campus -- to reconnect with one another, to revisit special memories and places on campus, and to witness all of the wonderful growth and success that the university has experienced.
Whether students graduated over 50 years ago, just a couple of months ago, or are a future alum, the Mount welcomes everyone back to join in on celebrating all that makes the institution such a unique and special place. With programming designed for the whole family, the Mount encourages everyone be a part of Homecoming weekend and bring their family to the Mount "family" to reconnect.
"I've been to every Homecoming since 2017 and every year I feel that I connect more with the Mount, my classmates, and my community," says Morgan Carpenter '20, Manager of Alumni Relations. "Homecoming has been the background to many of my favorite Mount memories. I encourage everyone to come join us for Homecoming weekend. We hope to see you soon!"

Homecoming 2021 Schedule of Events:
Tuesday, October 12th, Coach's Corner with Coach John Spinney, 7 p.m. (Zoom)
Wednesday, October 13th, "One More Class Lecture" with Dr. Christa Currie, 7 p.m. (Zoom)
Thursday, October 14th, Thirsty Thursday at Wishbone Tavern, 5-8:30 p.m.
Friday, October 15th, Athletic Hall of Fame, Harrington Center, 5:45 p.m. (Click here to purchase tickets)
Saturday, October 16th, Homecoming tailgate and football game, Lion's Park and Schueler Field, 10 a.m.
Saturday, October 16th, Mosaic Center Open House, 5 p.m.
Sunday, October 17th, Mass, 7 p.m.
To register for Homecoming, click here. The Mount is excited to see you and your friends and family!