Standing as a communal and spiritual centerpiece to campus, the Mater Dei Chapel's symbolic stained glass, intricate mosaics, and student artwork grace this sacred space.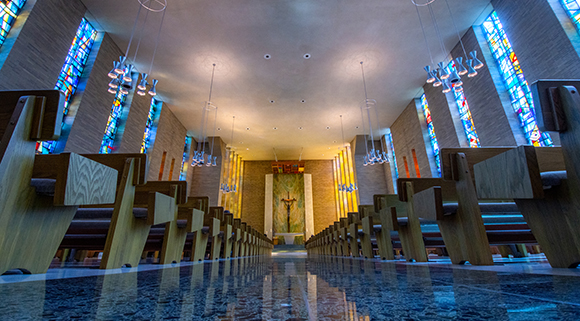 Josh Zeller, Head of Access Services in the MSJ library recently discovered research findings that uncovered a significant point-of-difference inside the walls of the Mater Dei Chapel, making it one-of-its kind among Catholic higher education institutions across the United States: Its design was extensively created by students.
According to Zeller's research, in the early 1960s, three female undergraduate art students along with three female faculty members designed every aspect of Mater Dei Chapel on the new campus of Mount St. Joseph University (then the College of Mount St. Joseph), including the high altar, stained-glass windows, and the religious art contained therein (including the Stations of the Cross). This was completed under the direction and supervision of Sister Augusta Zimmer, MSJ Department of Art and Design retiree of 1971.
According to the MSJ History & Artwork page, an internationally known artist of her time, Sr. Augusta empowered her students to capture a spiritual message when creating the Chapel's works of art. Student contributors include three talented students; Margaret Rolfes Brungs '60, Judy Dettenwanger Ebbeler '61, and Marlene Hoffman '61, who helped design the 28 stained-glass windows.
"Following my research, I am able to assert with confidence that Mount St. Joseph University is unique for the extensive involvement of students in its chapel's design," says Zeller. "Most Catholic institutions of higher education employ professional artisans for this task. It's also common for members of an institution's affiliated religious order to be involved in the design process in an oversight role, and sometimes women religious, priests, and even alumni contribute pieces of art to the chapel. But so far as I am aware, students have not played a role in chapel design other than at the Mount."
For more information on the Mount's Fine Arts major, visit the Department of Art and Design page to view our offerings.
Interested in hosting your wedding at the beautiful Mater Dei Chapel? Visit the Mater Dei Chapel page to submit a wedding inquiry form.