Recent Mount graduate, Aliyah Huff '21 answers some questions on her college journey in Business Management, where she credits expert business faculty, her Mount co-op, and the basketball team for her valuable educational experience as a growing leader.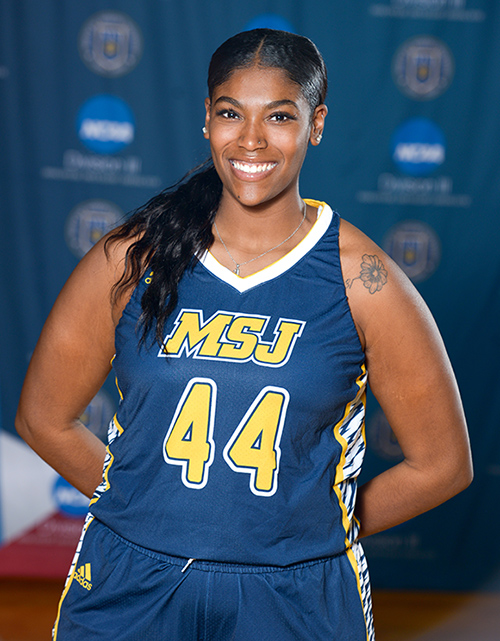 What was your specific major(s) and/or minor?
Business management was my specific major.
Why did you choose the Mount?
I choose the Mount for a lot of different reasons. I loved the campus and the small family feel, I loved that I could pursue my education and basketball, and most importantly I knew I wanted further my education after earning my bachelor's degree and the 4+1 MBA program was the perfect way to do that.
What inspired you to pursue your major(s)?
I knew from a very young age that I wanted to own my own business and be my own boss, and by pursuing a degree in business management, I could do just that. 
What field do to you wish to pursue? How was the Mount instrumental in preparing you for your future career path?
In addition to being an entrepreneur, I also found an interest in Marketing throughout my time at the Mount. I loved my marketing classes with Dr. Edwards and Dr. Goldhahn, and most recently my internship with the marketing team at MSJ. I love how creative and thought-provoking marketing can be.
Was there a professor/instructor that helped your development as a person?
The reason I love the Mount so much is because of the faculty and staff, and how dedicated they are to our success as students. In particular, my professors Dr. Taggart and Dr. Goldhahn really helped me develop throughout my time here, not only as a young professional, but as a person. 
Did you co-op? If so, where?
I co-oped with DePaul Cristo Rey High School as a Human Resource Intern in the summer of 2019, and I currently intern with the marketing team here at the Mount as a Digital Marketing & Social Media co-op. Both co-ops have taught me so much.
What was your involvement like at the Mount? Extracurricular activities, major projects, etc. that you would like to share.
I was a captain of the Women's Basketball team, the women's basketball representative for the Student Athlete Advisory Committee, the Traditional Chair for Campus Activities Board, and a Lead Campus Ambassador for the Admissions Office.
Have there been any pivotal points during your college career or in your career? Awards, nominations, etc.
All the awards and nominations never compared to being able to be a part of Lauren Hill's Legacy. Being able to meet her amazing family, watch her story, see her high school, and continue her legacy through basketball, has changed my life tremendously. No matter what I go through in life, I will always remember Lauren's motto of "Never Give Up"!
How would you rate your educational experience at the Mount, and how was it a strong fit for you?
I would rate my educational experience at the Mount a 10/10. I was challenged, supported, and given all the resources I needed to succeed, and for that I will forever be grateful!
Interested in pursuing a Business degree at the Mount? Visit the School of Business page to learn more.