"The best thing about the Mount's MSN Program for me was the level of support and encouragement I received from the faculty and program directors, from the very beginning when I first applied, all the way to the end."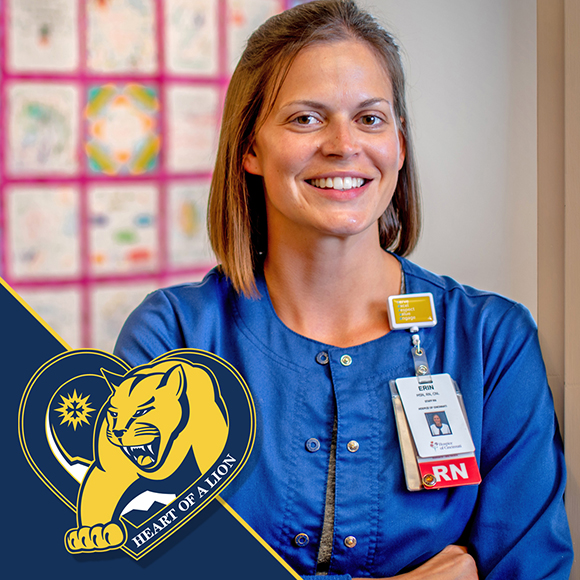 In 2016, she was Mom to a child in kindergarten and a newborn baby, was returning to work part-time, and was starting the MSN - CNL Program at the Mount. Erin Gannaway, '19 MSN, is the epitome of "doing what you have to do, to get it done."
She began working at Hospice of Cincinnati (HOC) years earlier, first on the evening shift, then the day shift, and then became a charge nurse. It was then that Erin talked with her supervisor about ideas for broadening her reach and expanding her career. Her supervisor, who was in the Mount's MSN Program, suggested Erin consider the Mount. When Erin attended a career fair and learned about the three-year MSN Program with the Clinical Nurse Leader (CNL) Track, she knew it was exactly what she wanted to do.
"The best thing about the Mount's MSN Program for me was the level of support and encouragement I received from the faculty and program directors, from the very beginning when I first applied, all the way to the end. They truly care about each student's success. I also appreciated the ability to maintain an overall balance in my life. It was extremely hectic, and the 10-week semesters definitely made it possible."
In her work at Hospice of Cincinnati, Erin is paving the way, both professionally and personally, for the critical role Clinical Nurse Leaders can have in successful patient outcomes. Erin worked with the Director of Clinical Services to define how CNLs can make an impact at a macro-system level at Hospice, versus the traditional CNL role at the unit level in a hospital setting.
Under the direction of the Chief Quality and Compliance Officer, Erin is now responsible for the tracking and trending of quality initiatives and best practices for nearly 700 patients served daily at HOC in home care, long-term care facilities, and four inpatient care centers. She also participates in meetings and receives guidance and support from a larger peer team of CNLs at TriHealth.
Erin's focus at HOC is to work with her team to find solutions together that ensure the most successful outcomes for the patients and their families. She's learned that it's as important to be positive as it is to remain grounded in the realities of her patients' situations. She's encouraged by her work, and the difference she is making in the critical role of Clinical Nurse Leader. Her reach has even extended to the Hospice organization in Dayton, with whom she is now sharing her experiences and expertise.
On a personal level, it continues to be an amazing journey.
"When I worked as a charge nurse while I was in the MSN Program, my colleagues would comment on how my approach and perspective was shifting, and how they could see changes in the way I worked. They would joke with me about 'rationale' becoming my new favorite word!"
The role of CNLs isn't just new at Hospice. In fact, it was only officially declared as a new nursing professional by the American Association of Colleges of Nursing in 2004.
 "It really has been about succeeding in unchartered territory. I am new to the CNL role and I'm also defining the impact the CNL role can have at Hospice of Cincinnati. I'm so fortunate to be in this position, having achieved my master's degree and paving the way for other CNLs. It has been an incredible experience, and I'm excited about the future."
To view more of Mount St. Joseph University's Heart of a Lion stories, visit Heart of a Lion to read personal accounts of overcoming, defending, and of daring to risk a caring response.