On April 15, Mount St. Joseph University presented the 18th Annual Celebration of Teaching and Learning virtual event, featuring an array of faculty and student presentations, followed by Honors Convocation where the Mount recognized outstanding student, faculty, and staff achievements.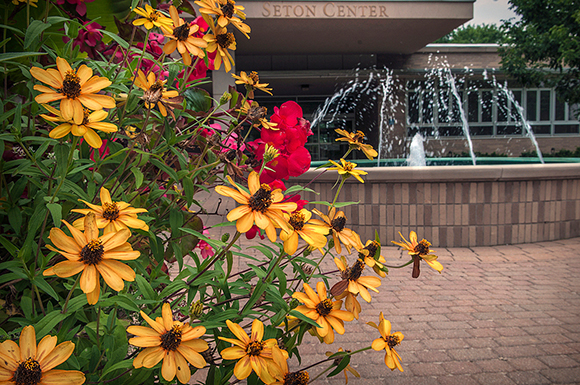 The University's Celebration of Teaching and Learning is an annual celebration of student achievement and faculty scholarship that showcases fascinating topics presented in posters, lectures, and presentations that are open to the campus community and the public. On April 15, dozens of Mount community members shared their talents, research, and award recognition at Honors Convocation across campus.
Celebration Award Recipient Exemplifies Service to Others
Mount junior Brooke Rouse, student recipient of the St. Catherine of Alexandria Medal, reflects on what receiving this service award means to her.
"My grandfather instilled in me a love of service and encouraged me to pursue a Catholic education all my life. When Sr. Karen notified me that I won the St. Catherine of Alexandria Medal, I knew my grandfather was proud of me in Heaven. Service is the driving force in my life, and I am always offering it even in small ways - a smile, a kind compliment, and living by my life motto - What can I do, and how can I help? As a participant of Celebration of Teaching and Learning, I saw firsthand the Mount's commitment to education, and the celebration of our wonderful community at the Mount."
Dedication to a Mission
Heather Crabbe, Associate Provost for Academic Support and facilitator of the event, provides a reflection on its campus-wide impact.  "The overwhelming takeaway for me was our community's dedication to the mission of the University," she says. "It showed in every single session (from the first session – 'Quality of Life Forum' - which included information regarding how students, faculty, and staff stepped up to better address food insecurity, to the final session before Honors Convocation which was the Keynote address, 'Recognizing Opportunity.' It was evident all throughout Honors Convocation as we recognized the great achievements and contributions of our students and faculty."
Traditionally, each year has its own distinct theme. While there was no official theme this year, almost every session explored how the pandemic has affected our lives. All in all, campus is excited to participate at the event in-person next spring.
To learn more about service-oriented opportunities at the Mount, visit the Service Learning and Civic Engagement page, or contact Keith Lanser at keith.lanser@msj.edu