The Mount's Mission Ambassadors program serves as a bulwark and an epitome of Christian social responsibility on campus.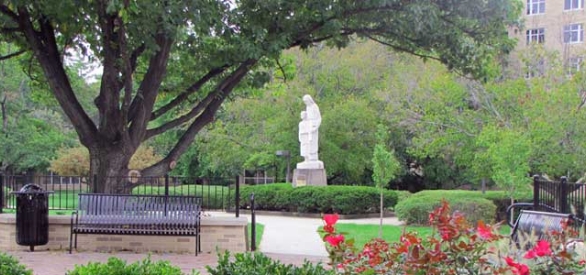 Involved in and organizing many of the on-campus ministry events, Mission Ambassadors are expected to assume and fulfill this role of civic leadership, as current Mount Ambassador Lauren Boland notes.
"When it comes to the responsibilities of a Mission Ambassador, first and foremost," she states, "it is our job to represent and live out the Mission of the Mount."
For those who are not acquainted with the Mission Statement of the Mount, it reads, "The University educates its students through interdisciplinary liberal arts and professional curricula emphasizing values, integrity and social responsibility." Such a creed reflects the purpose and quintessential realities of the Mission Ambassadors program, which include, among other things, participation in service opportunities, retreats, and club engagement.
Even if one is not a part of the Mission Ambassadors program, the positive influence and profound impressions on campus are evident. Fellow students can even take part in many of the events related to fulfilling the Mount's Mission.
"Currently," Boland notes, "we are holding Prayers for Overcoming Racism and Prayer Warriors over Zoom, and nondenominational services and Masses Sunday nights." In partaking in some of these services, students not only influence the spiritual nature of the university but also possess a greater ability to grow and maintain a healthy relationship with God. Even if God is not the main focus of participating in these events for some individuals, a particularly strong sense of community and campus morale are increased. These events are priceless to the life and health of the Mount.
These events help students endure the ongoing pandemic as we exit the worst COVID-19 had to offer. With vaccinations becoming increasingly available, it is likely that the pandemic's end is nigh. Nevertheless, even though COVID-19 restrictions continue to present the Mission Ambassadors "with many challenges, especially when it comes to creating new opportunities to engage students in the mission, we have representatives involved in various clubs around campus, such as Fellowship of Christian Athletes, Interfaith Club, Lions for Life, and Catholic Prayer Group,  just to name a few!" according to Boland. With this in mind, as well as the hope that the worst is behind us, there are a multitude of opportunities available to students to enhance the spiritual elements of the campus and themselves, not to mention the Mission Ambassadors program itself.
However, changes and improvements provide a potentially more thorough implementation of the mission statement. Boland writes that with this "upcoming year, we are really looking to expand our program and really work to come up with new, engaging ideas to integrate the Mount's mission into our activities on and off campus."
An expansion of the Mission Ambassadors program can only benefit the campus, students, faculty, and staff as a whole with a broader sense of communal togetherness. "Going into our third year," Boland continues, "we now have a solid base and larger, more diverse group of Mission Ambassadors so we will have more opportunities to reach more people and show them what the Mount's mission is all about."
This diversity adds yet another dimension to the positivity the Mission Ambassadors can do for the Mount and its students. A heightened awareness of anything which potentially obstructs the Mount's Mission can be tackled to increase the Ambassadors' constructive influence.
Programs designed and carried out by the Mission Ambassadors ultimately reflect not only the improvement of campus community, which is already invaluable, but also a symbol of religious duty and Christ-like service.
Being a Mission Ambassador, as Boland points out, "also emphasizes our call to service, in which we are responsible to serve others as Jesus did to us." Becoming one of these role models is an act to be admired. Such models of positivity, spiritual betterment and awareness prove to be crucial to the identity of Mount St. Joseph University, along with its Mission.
 "The most important aspect of our role as a Mission Ambassador," Boland writes, "is to come with an open mind and heart that is willing to work to make our community a better place!"