Happy April Fools' Day, Joe Lion will continue to Roar!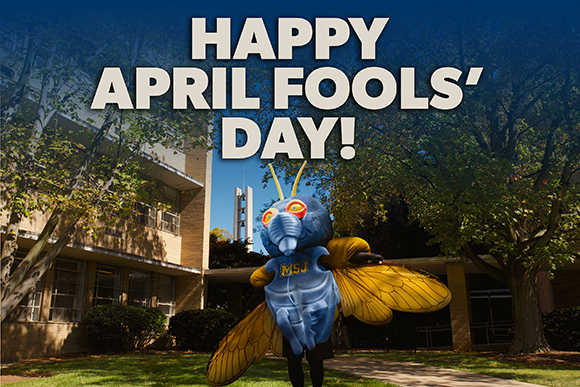 MOUNT ST. JOSEPH UNIVERSITY
FOR IMMEDIATE RELEASE 
Contact:
Patrick Crowley
On Behalf of Mount St. Joseph University
859-462-4245
pcrowley@strategicadvisersllc.com
 April 1, 2021
CINCINNATI – Happy April Fools' Day from Mount St. Joseph University!
The Mount's announcement from earlier today that the school's Joe Lion mascot would be replaced by a Cicada Buzz mascot is an April Fools' Day prank, designed to generate some "buzz" and maybe a few laughs as the university launches into the springs sports season and awaits the arrival of the Brood X cicada swarm.
"Happy April Fools' Day," said Mount St. Joseph University President H. James Williams, PH.D. "Joe Lion is our Mascot and is here to stay at The Mount. Go Lions!!!"
Mount St. Joseph University is home to renowned cicada expert Dr. Gene Kritsky. Millions of cicadas will emerge throughout Greater Cincinnati, along the eastern seaboard and throughout the Midwest in early May as the Brood X cicadas begin to appear after their 17-year hiatus.
"Joe Lion has been good to us over the years, so he needs to stay with us. But look out for the Cicadas throughout Greater Cincinnati in the coming weeks," said Gene Kritsky, Dean of Behavioral and Natural Sciences at The Mount, who has been quoted in news outlets across the nation - including The Wall Street Journal and Washington Post - in anticipation of the Brood X arrival.
As the official mascot of the Mount, Joe Lion is the heart and soul of the University and embodies the excellence that is the Mount. Joe can be found at games pumping up the crowd and cheering on his favorite student-athletes, and also out in community representing the Mount at various events.
"No one defends the Mount like Joe Lion," said MSJ Athletic Director Melanee Wagener. "Joe Lion forever!"

About the Mount
As a Catholic institution rooted in the values of the Sisters of Charity, Mount St. Joseph University excels at serving the common good. Undergraduate, graduate, and doctoral students at the Mount are inspired to think beyond the classroom and redraw the bounds of what's possible for their futures. This is accomplished through individualized educational experiences, a safe, secure campus environment, and an all-in commitment from faculty and staff to inspire students to reach their highest potential. The Mount fosters lifelong learners who serve, care, and contribute to the world beyond their front doors. To find out more visit: www.msj.edu.
###
In the wake of the University's mascot announcement, a camera crew followed Joe Lion around during his last day on the job.