Hanne Driscoll is no conference rookie.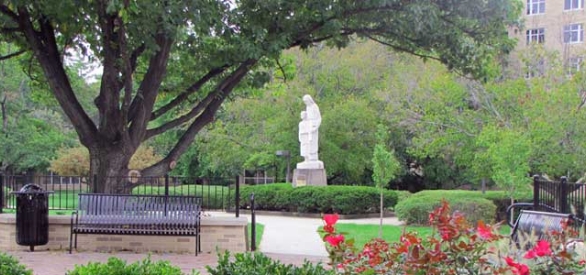 This Saturday, April 17, she will add her fourth presentation to an already-impressive resume, at the 12th Annual Dr. Jonathan Riess Undergraduate Art History Colloquium, a virtual conference hosted by the University of Cincinnati.
A senior fine arts/psychology major, Driscoll was encouraged by Cecelia Dorger, her art professor, to submit a proposal for the conference's "Gender Concepts in Art" session. Her presentation will explore two works, "Portrait Head of an Elder from Scoppito" and "Woman from Brassempouy," the first from 100 BCE and the other from 30,000 BCE.
According to Driscoll, "Portrait Head' was typical of male sculptures from that period, depicting the ideal man being honored as someone who "had to be hard, void of emotion, and enveloped in your career."
The other piece "showed that women were viewed only as sexual objects," with their function in society limited to bearing children.
In bringing a 21st-century critical eye to the works, Driscoll will argue that the two pieces have endured because they used solid materials such as stone and ivory, but that "the gender concepts embodied in the art do not have to." As part of her presentation, she will "offer a call to action to move beyond ancient gender ideals."
Driscoll focused her first college-level presentation on the same pieces of art at a 2019 Mid-East Honors Association Conference for a general honors college audience, but "wanted to present my findings at an art history conference as well." Two of her presentations last spring, one at the 2020 MEHA conference and the other at the Alpha Chi Honors Conference, were virtual because of the pandemic.
For her previous conferences, Driscoll took advantage of the Mount's Thrailkill Research Scholar Fund to pay registration, travel and lodging, but did not use the funds awarded in the Spring of 2020 because the conferences moved online.
Driscoll urges students to showcase work generated in their Mount classes by presenting at local and national conferences.
"It's a great way to build confidence, create connections in the academic field and strengthen your academic resume," she says.