MSJ announces exciting new direction for athletics program, university branding.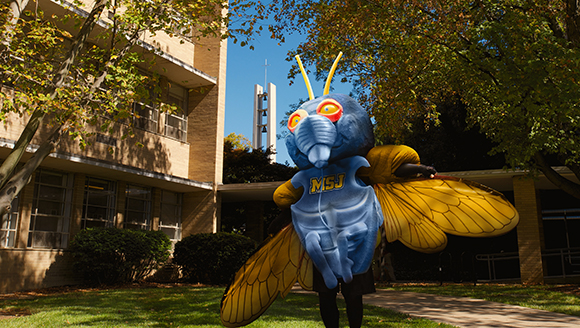 MOUNT ST. JOSEPH UNIVERSITY
FOR IMMEDIATE RELEASE
Contact:
Patrick Crowley
On Behalf of Mount St. Joseph University
859-462-4245
pcrowley@strategicadvisersllc.com
April 1, 2021
CINCINNATI – Millions of cicadas will come and go from Greater Cincinnati this year. But at least one is sticking around.
Mount St. Joseph University, home to renowned cicada expert Dr. Gene Kritsky, is excited to announce that the school's Joe Lion mascot will be replaced by Cicada Buzz.
With the Brood X cicadas set to emerge in early May after a 17-year hiatus, the Mount felt it was the perfect time to say thanks but goodbye to Joe Lion and hello to Cicada Buzz.
"Cicada Buzz is a superb representation of our student body who seek to climb higher at the Mount," said Mount St. Joseph University President H. James Williams, PH.D. "Other schools can have their Wildcats, Bearcats, Bobcats and more. The Mount is now flying high with Buzz Cicada!"
The Buzz Cicada mascot logo will soon adorn the Mount's campus as well as the uniforms of the school's athletic teams.
"Just as cicadas are known to bore into the ground, our athletic teams are really digging the new mascot," said MSJ Athletic Director Melanee Wagener. "Cicadas are active, capable, and athletic – and can fly! Their ground game is stellar and aerial attack superb, something we are building on with our athletic teams at the Mount.
"Those big eyes of a cicada are going to look great on our uniforms," Wagener said.
Dr. Kritsky - who has authored books and hundreds of articles on cicadas - and the Mount have been featured in media locally, regionally and across the country recently as communities  prepare for prepare for the Brood X arrival.
Dr. Kritsky said the buzz produced by male cicadas sounds almost lyrical.
"We fully expect Buzz and his cicada buddies to be singing the Mount's fight song over the next few months," Dr. Kritsky said.
About the Mount
As a Catholic institution rooted in the values of the Sisters of Charity, Mount St. Joseph University excels at serving the common good. Undergraduate, graduate, and doctoral students at the Mount are inspired to think beyond the classroom and redraw the bounds of what's possible for their futures. This is accomplished through individualized educational experiences, a safe, secure campus environment, and an all-in commitment from faculty and staff to inspire students to reach their highest potential. The Mount fosters lifelong learners who serve, care, and contribute to the world beyond their front doors. To find out more visit: www.msj.edu.
###
President H. James Williams, Ph.D., delivers an update about a new direction for the University and its athletic programs.