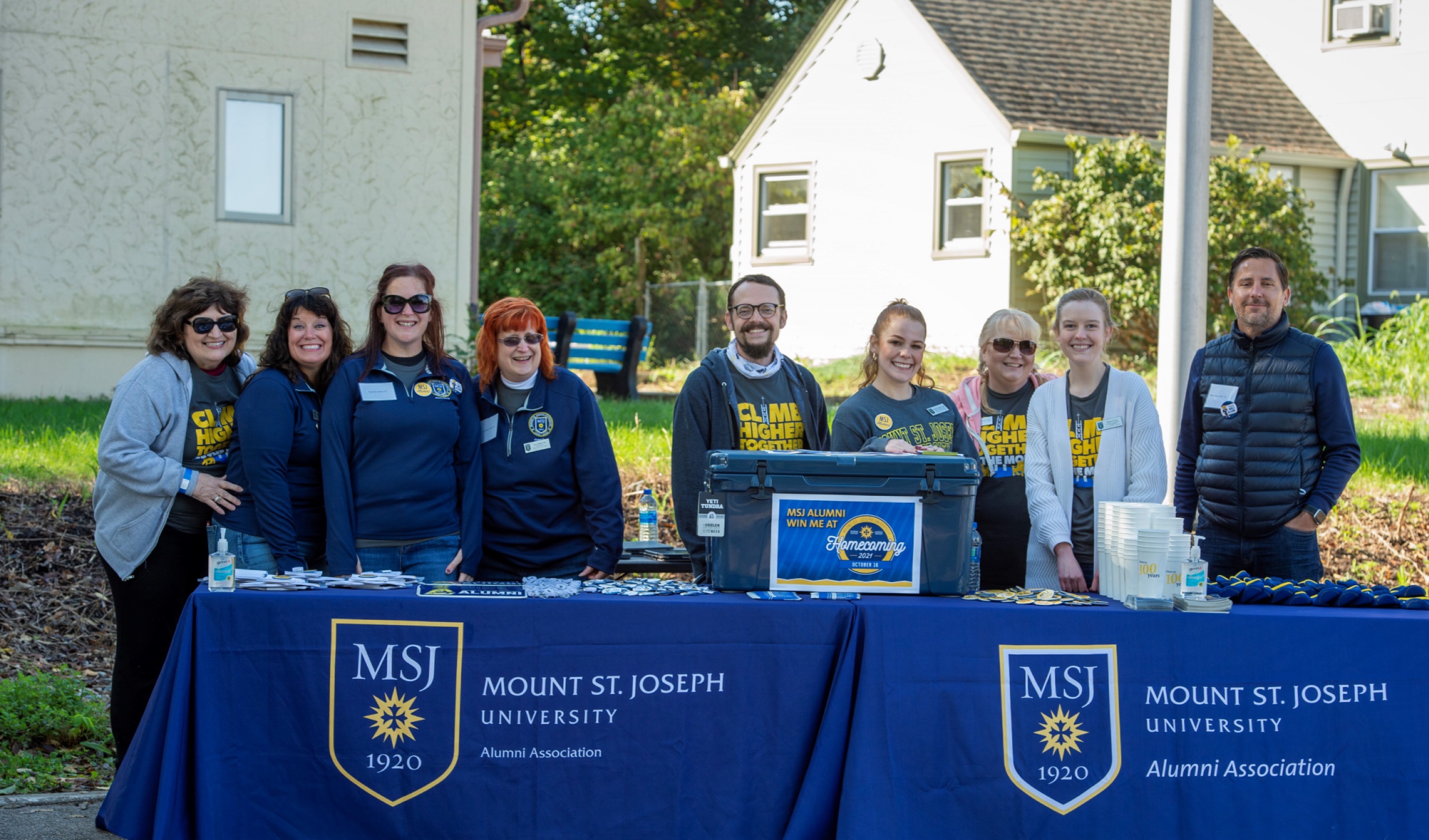 Network with your Mount St. Joseph University Alumni Advisory Council.
With many collective years of experience in careers, education, volunteerism, and community efforts, we stand ready to share learning experiences and collaborate with our alumni and students on new innovations.
Alumni Advisory Council Officers
President, Logan Chowning '19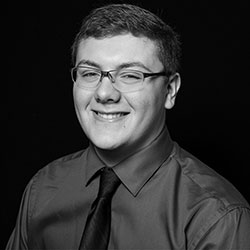 Logan is a West-Sider born and raised. He graduated from Elder High School in 2015 and from the Mount in 2019 with a bachelor's in Athletic Training. Logan is currently working for St. Elizabeth Health Care in their outreach athletic training department where he covers Simon Kenton High School and Summit View Academy. Logan currently is also serving on the "swab squad" and working COVID testing tents to serve the community. Meanwhile he is still am completing coursework in order to apply to medical school.


Logan is the son of Karen who graduated from MSJ with her Bachelors (1999) and Masters (2012) and the oldest of 5 children (all hopefully future Lions). Logan chose to serve because the Mount community is like family to him and he wants ensure that all past, current and future students of MSJ always have a place to come home to and a family there to greet them with open arms. Logan still volunteers on campus any chance he gets to help with the admissions office or sports medicine team. His hope is to continue to build upon the culture that he knows exists on campus and extend it further and beyond onto our Alumni and community. 
Vice President, Heather Riga '09, Genesis Health Care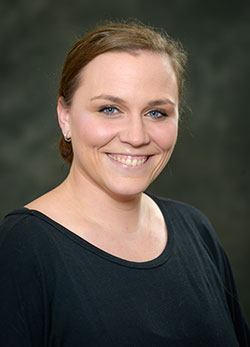 Heather is a 2009 MSJ alumna with a Bachelor's in Communication Studies with an emphasis on health care communication. After her grandfather suffered a stroke, she decided to pursue a career as Speech-Language Pathologist. She later obtained her Master's in Communication Sciences & Disorders from the University of Cincinnati in 2014. She has since worked as a Speech-Language Pathologist in hospitals, schools, home health, skilled nursing facilities and inpatient rehab. She currently works at a rural critical access hospital, treating both inpatient and outpatient, and servicing individuals from infancy to geriatrics.
As a Speech-Language Pathologist, she helps patients with a variety of conditions, including: aphasia, apraxia, feeding/swallowing disorders, cognitive-communication impairment, voice, and speech/language disorders. She is a certified provider of SPEAK OUT! ®, a specialized treatment program that strives to preserve the voice of individuals with Parkinson's and related neurological conditions through the Parkinson Voice Project. She obtained her Certificate of Clinical Competence from the American Speech-Language-Hearing Association (ASHA) and is an ACE award recipient, in recognition for her continued education in order to best serve her patients. She is also a member of the Indiana Speech-Language-Hearing Association.
She decided to join the Alumni Advisory Council in order to give back to the school that gave so much to her. She was given the tools to build a solid foundation that continue to help her serve her patients with the utmost integrity. She wanted to help others get the most out of the college experience, and provide a resource for others to learn more about Speech-Language Pathology. She met her husband, Michael Riga, a 2007 MSJ graduate while they were students. They relocated to southeast Indiana, where they live with their three daughters. She enjoys spending time with her family, cooking, music, Disney, and all things Cincinnati.
Treasurer, Terri Vollmer '86, Consultant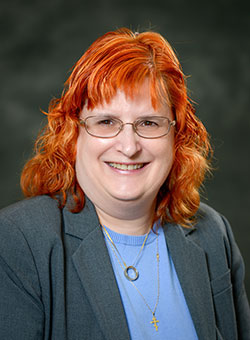 Terri joined the Alumni Advisory Council to be able to give back to the University that has given her so much.  Terri says she has made some lifelong friends from the Mount and that includes the members of the Alumni Advisory Council. Additionally, she has enjoyed being part of some amazing events at the Mount. 


Terri is a graduate of the Class of 1986 with a Bachelor of Arts Degree in Business Administration/Data Processing with a Minor in English.


Terri married in 1996 to Mark A. Vollmer, a long time west side resident and a former Air Force Sargent.  Mark and Terri had their own travel agency from 2006 - 2013 (She and Mark both earned degrees in Travel and completed training from major cruise lines) when she closed the agency a year after Mark passed away. 


Terri has spent the past 35 years working in IT in Computer Operations and in QA.   She is a Quality Assurance Analyst and has a certification as a Certified Tester Foundation Level. She currently lives in Fairfield, OH with her Chihuahua, Monty.
Secretary, Matt Hofmann, MBA '18, B.S. '17, Wright Patterson Air Force Base
Matt Hofmann was born and raised on the Westside of Cincinnati, Ohio where he graduated from Elder High School in the class of 2013. While looking for a college with a small close-knit community, he decided to stay on the Westside and continue his education at Mount St. Joseph University. While attending the Mount, Matt studied Business Administration with a concentration in Finance graduating Cum Laude class of 2017, as well as obtaining his MBA in 2018.
While a student at MSJ, Matt was involved in many activities including being a captain on the MSJ baseball team, a coach/mentor for a local high school business competition sponsored by the MSJ School of Business, and many other clubs/activities. MSJ teaches an abundance of skills to all students, including leadership and developmental skills.  The skills that the Mount coaches, faculty, and staff instilled in him helped prepare Matt for his professional career.
Upon graduation from the Mount in 2018, Matt accepted my first professional position where he is currently employed by the Department of Defense working as an Acquisitions Program Manager for the United States Air Force.
Matt chose to serve on the Alumni Advisory Council because he believes in the Mount's mission and vision, as well as having a predominate impact on the surrounding community. Matt hopes to give back to the institution that gave him endless opportunities, both as a student and alumni.
Past President, Eric Young '97, Kaivac, Inc.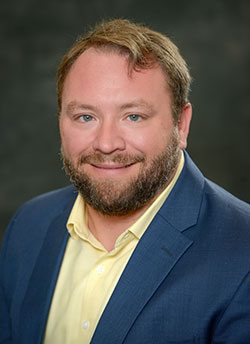 Eric Young, a 1997 alumnus from Mount St. Joseph, is serving his fourth year on the Mount St. Joseph Alumni Advisory Committee, and his second as president. He has more than 20 years of experience in marketing, public relations and communications.
His previous experience includes extensive work with non-profits such as Council on Aging, St. Vincent de Paul and the Catholic Inner-city Schools Education Fund. He has also served in communications roles in the transit industry with FirstGroup America and Metro. He holds a BA in English from the Mount, where his activities included two years of football and an editorial position on the staff of the former student newspaper, MSJ Dateline, which led to a passion for writing and storytelling that he has utilized throughout his career. 


Awards and activities include the 2013 Sister Peg McPeak Arts and Humanities Alumni award and the 2017 Future Five award (now Alumni Impact) from the Mount, a two-year membership on the WCPO-TV Community Advisory Board and being selected as a 2016 participant for the Leadership Challenge Workshop for the Leadership Council of Human Services Executives.


Eric lives in Reading, OH with his wife, Jill, and sons Zach and Eli.
Alumni Advisory Council General Members
Jeremy Adam '09, Miami University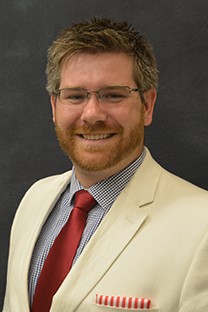 Jeremy is an alum of MSJ from the class of 2009 with a B.S. in Business Marketing and Management. He also holds an M.B.A. from Florida Atlantic University with a concentration in Business Intelligence and certificate in Big Data Analytics. Professionally, Jeremy is a digital marketing professional and executive with marketing experience in consumer product goods, hospitality, and higher education. Personally, Jeremy is a lover of water from diving, boating, water sports, and marine conservation. He is also an avid cyclist and lifelong learner. Jeremy and his wife, Molly, who is also an MSJ grad, currently live in-between South Florida and Greater Cincinnati with their three pets.

Jeremy chose to serve again with the Alumni Advisory Council as he believes in the MSJ mission and organization. He learned and grew so much during his time at the Mount and be it the duty to continue to give back and to grow MSJ. Additionally, Jeremy wants to help connect our alumni base around the region and nation to spread the influence of MSJ.
Stephanie Albertz '07, Greater Cincinnati Behavioral Health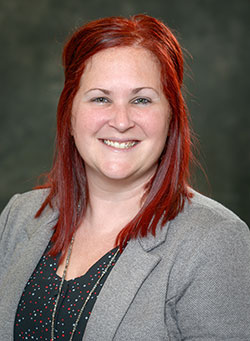 Stephanie is a native Cincinnatian and West Sider. She graduated from Seton High School in 2003, then went on to the Mount to earn a Bachelor's in Psychology with the hope of becoming a therapist one day. Unfortunately, her journey took longer than anticipated. Instead of pursuing a doctorate per her original plans, she had learned that she could pursue a Master's in Social Work and still be able to become a therapist. Which is exactly what she did. Stephanie entered the University of Cincinnati's Master in Social Work program and graduated in 2013.
Stephanie has worked in various settings, including inpatient and community mental health. It's always been her dream to be a therapist, which was fueled by her own personal experiences with individuals who have been diagnosed with mental health issues. She has since earned a Trauma Responsive Care Certification, which gives her additional and specific training for those who have endured trauma.


Stephanie joined the Alumni Advisory Council to be able to give back to a community that has given her so much. She has met some lifelong friends, as well as learned a lot about psychology and human behavior. Stephanie also wanted to be a representative of the Social Work community, find ways to assist current students and support the Mount community. She's met some incredible people being a part of the advisory board and has been a part of some amazing events. Joining the council has aligned perfectly with her lifelong goal of giving back to others.
Stephanie Allen '13, Global Solutions Enablement and Deployment Manager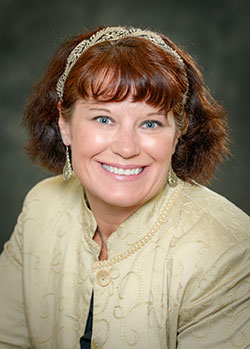 Stephanie has worked for Cincinnati Bell /CBTS for 23 years in many different leadership roles. She started with Cincinnati Bell as a customer service rep in 1997 and currently holds the role of Global Services Deployment Manager under CBTS.


Stephanie has the following certifications: PMP, Professional Scrum Master, Scrum Foundations certification, Lean. She says, "I believe in continuously developing yourself and others around you. It's a very important part of our future as alumni and employees."


Stephanie is married with three kids and two amazing dogs. She lives in Green twp., and grew up in Landen and went to Kings High School. She went to MSJ while working at CBT at night and on the weekends, where she met many wonderful people, both students and professors, who were all there to cheer her on.
Craig Hockenberry '95, Consultant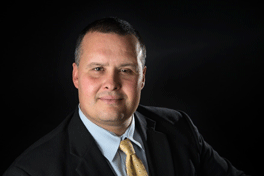 Craig Hockenberry grew up in Northeastern Ohio in the small town of Malvern.  After graduating from high school in 1990, he was recruited to play football at the College of Mount St. Joseph.  He was part of the school's first football team and played for legendary Coach, John Pont.  After graduating from Mount St. Joseph in 1995 with an undergraduate degree in Elementary Education, Craig immediately began teaching at Roosevelt School in the Cincinnati Public School system.  During his short time at Roosevelt, he attended night school at Xavier University, receiving a graduate degree in Educational Administration.  He then enrolled at the University of Cincinnati where he began work on his Ph.D. in Urban Education. 
After Roosevelt School closed in 1998, he was named Assistant Principal of Oyler School in Lower Price Hill.  After two years, he was promoted to Principal.  During his last 10 years at Oyler, the school transformed from a K-6 school to a full-service PreK-12 Community Learning Center.  The school elevated from Academic Emergency to Academic Watch to Continuous Improvement and, most importantly, was graduating students from a community that once held the highest dropout rate in the City of Cincinnati.   In 2009, Craig was named the Cincinnati Public School Administrator of the Year and received the James N. Jacobs Award for Outstanding Administration. Also in 2009, he was the recipient of the 2009 Dream Makers Award from the Cincinnati Youth Collaborative (CYC) for his school's work in building partnerships. Additionally, he was named Lower Price Hill Man-of-the-Year for his work in the community of Lower Price Hill and went on to later be named The King of Price Hill. 
Craig lives in West Price Hill with his wife, Erin, and their three children: Vivian, Gino, & Rocco.  His personal interests include traveling, volunteering, exercising, following college football, and, of course, spending every minute he can with his family. He was the President-elect of the Price Hill/Western Hills Kiwanis Club.  He is a Leadership Cincinnati Alumnus Class #39, and a member of the Cincinnatus Association.  He was a member of the Price Hill Civic Club, the East Price Hill Property Owners Association, Lower Price Hill Community Council, and served on the board of directors at Santa Maria Community Services, Price Hill Will, and the Queensgate Business Alliance.  He currently is a member of the Western Hills Community Service Club, the Cleves-Three Rivers Kiwanis Club, and the Western Economic Council. In 2015, he was appointed to the advisory boards for Mount St. Joseph University and Xavier University and recently began a member of the Cincinnati Rotary Club.
On Saturday, May 11, 2013, Craig received an honorary Doctor of Humane Letters from the College of Mount St. Joseph and delivered the 2013 commencement address. 
His 15 years of work and dedication at Oyler School was nationally recognized for an entire year on Marketplace/National Public Radio (NPR) in a series titled "One School, One Year…" Craig has had the opportunities to speak across the nation about leadership, education, and community leader centers. 
After 19 years working in Cincinnati Public Schools, Craig was named the Superintendent of Manchester Local Schools in Adams County.  Adams County is the 2nd poorest county in the State of Ohio and one of Ohio's most rural school districts.  After 2 years, Craig returned to Hamilton County and was named Superintendent of The Three Rivers Local School District.
When serving as the District's Superintendent, Mr. Hockenberry continues to ensure student achievement. In 2016, Three Rivers Local School District received the Momentum Award under his leadership. This award recognizes schools that have received A's on every value-added measure included on the State Report Card. Three Rivers was one of only five districts to be awarded in 2016. Mr. Hockenberry also led the administrative team to identify the District's first ever Core Values as well as an extensive process to develop the district's first strategic plan.
Mr. Hockenberry led the district to a finalized agreement with Miami Township, the YMCA, and the Cincinnati Library System to develop a 14 million dollar Aquatic Center and recreation complex on the Three Rivers Campus.  Under his leadership at Three Rivers he developed the Taylor High School Career Academies which included partnerships with Cincinnati State (Aviation), the University of Cincinnati (Informational Technology), and International Brotherhood of Electrical Workers (IBEW).  He secured over one million dollars in scholarships for those who wanted to pursue careers in the trades after graduation. 
Mr. Hockenberry also serves as a guest lecture at several colleges and universities in Cincinnati including Mount St. Joseph University, University of Cincinnati, and Xavier University. 
Mr. Hockenberry enjoys giving back and volunteers weekly at Matthew 25: Ministries, Crayons to Computers, The Freestore Foodbank, St. Francis Seraph, and Seton High School. 
Andrew Hoelmer '10, Mount St. Joseph University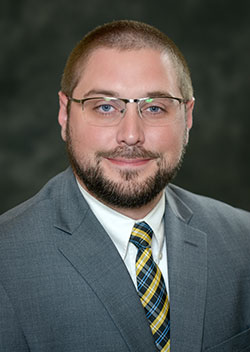 Andrew Hoelmer graduated from MSJ in 2010 with a Bachelor's Degree in Biology. As a student at MSJ he was involved in the Honors Program and Biological Honors Society (Tri Beta). He also received a Master's degree in Entomology and Certificate in College Teaching from Ohio State University. Since moving back to Cincinnati he has served in several roles at MSJ, including as an adjunct faculty member in the Department of Biology, Graduate Admission Counselor, and currently as the Assistant Director of Administrative Services. He is also currently a student in the Masters in Organizational Leadership Program at The Mount. He serves on the University's Retirement Committee and Alumni Advisory Council. These opportunities enable him to share his passion and creativity to help guide the University forward and achieve continued success.
Andrew lives in Delhi Township with his wife Jill.
Mary Jo Kathman '83, '75, Semi-Retired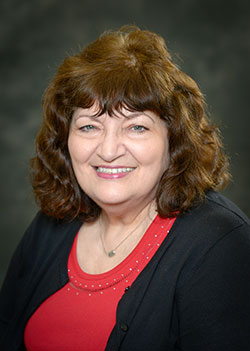 Mary Jo Kathman graduated in 1975 with a BSN in Nursing and in 1983 with a MA Ed. She is very grateful for the excellent education that she received at Mount St. Joseph University which facilitated her career path. Mary Jo's first job was as a Med-Surg Nurse, then as a SICU Nurse at The Christ Hospital.  Her next role was a Nursing Educator and then Dean of Student & Alumni Services at the Good Samaritan College of Nursing and Health Science.  She is currently retired.
Mary Jo is happy to serve as an Alumni Board Member to give back to an institution that gave so much to her.
Eddie Rauen, MSOL '18, Dan Beard Council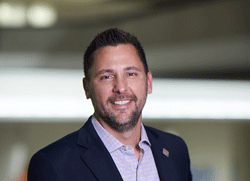 Edward (Eddie) Rauen is an accomplished and results-driven professional with extensive experience delivering impact at nonprofit organizations – including the National MS Society and St. Jude Children's Research Hospital. 
Eddie brings strong executive leadership and presence, strategic thinking, and functional expertise (relationship building, fundraising, major gifts, grant making, corporate relationships, deferred giving, donor-cycle execution), operational proficiency (financials, audit & 990 process, marketing, Human Resources) and a robust network. 
He has extensive experience leading diverse, collaborative teams that achieve the desired impact in the community.  This includes direct responsibility for annual budgets exceeding $7M and management and coaching of more than 80 professional staff and board members (volunteers) across a multi-state region. 
Eddie is adept at linking people to and igniting passion for the worthy mission of an organization.  He is driven by the belief that people and relationships make the difference.  He has nearly 20 years of fundraising experience.  He develops relationships that fuel an organization's mission and engage top level donors that have yielded transformational gifts.  

He engages volunteers at their highest level, the focus of his master's thesis.  In his previous role as President of the Michigan, Ohio Buckeye and Ohio Valley Chapters of the National MS Society, Eddie developed and led one of the most diverse volunteer boards in the nation, resulting in unprecedented levels of engagement and quantifiable business results. 
Eddie holds a Bachelor of Arts in Sociology from the University of Cincinnati and a Master of Science in Organizational Leadership from the Mount St. Joseph University School of Business. 
He resides in Cincinnati, Ohio with his wife and children. 
Jerry Rauen, MSOL '16, B.S. '13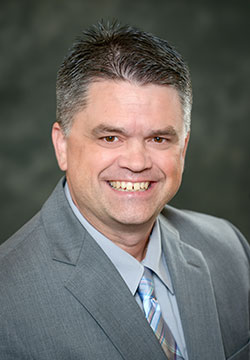 Jerry started his education as a non- traditional student at the Mount after serving 20 years and retiring from the United States Navy. Jerry graduated in 2013 with a Bachelors in Business Administration and then in 2016 earned his Master of Science in Organizational Leadership.


Currently Jerry is in charge of Human Resources for a small company in Northern Kentucky (approximately 120 employees).


Jerry chose to serve on the Alumni Advisory Council because not only does he love what the Mount represents, but he also wanted to be able to give back to the University and the students. He stated at the Mount as a student in 2009 and has been a part of the Mount in one way or another for 11 years straight. 
Terri Schumacher '74, Retired
Terri Schumacher '74 received her Diploma in Nursing from Good Samaritan School of Nursing in 1969, then as an RN she enrolled at the Mount to pursue her BSN. She saw the Mount as a continuation of the excellent education that the Sisters of Charity had provided at Good Sam. After graduation she worked in both acute care and nursing education. She later went on to earn her MSN from the University of Kentucky.  Upon retirement I was interested in getting more involved in the Mount. Serving on the alumni board as provided me the opportunity to do so.
Director of Engagement and Advancement Communications, Mount St. Joseph University
Tricia Sarvak '97 & '23
For more information on the Alumni Advisory Council, contact Tricia at tricia.sarvak@msj.edu
Mission & Vision Statements
Office of Alumni Relations Mission Statement
To support the mission and vision of Mount St. Joseph University by creating a platform for alumni that nurtures the Mount culture of values, community involvement, professional growth, and lifelong learning.
Office of Alumni Relations Vision & Purpose
Cultivate a community of Alumni, family, and friends of the University – past, present, and future – who are engaged in carrying out the mission of Mount St. Joseph University and demonstrating the Heart of a Lion.
The Office of Alumni Relations aims to:
Serve and engage alumni by developing meaningful relationships
Foster diversity and inclusion in unity within the Mount family
Cultivate a commitment of service to others
Instill a passion of lifelong learning
Advocate for philanthropic support and stewardship
Alumni Advisory Council Mission Statement
The mission of the Alumni Advisory Council to support Mount St. Joseph University and foster a spirit of loyalty and fellowship among alumni, family, and friends of the University.
Alumni Advisory Council Vision & Purpose
Providing opportunities for engagement between the University and our Alumni
Cultivating a commitment of service to others
Recognizing the achievements of alumni through the giving of awards
Empowering current and future students through scholarship opportunities
Providing philanthropic support to further the University's mission