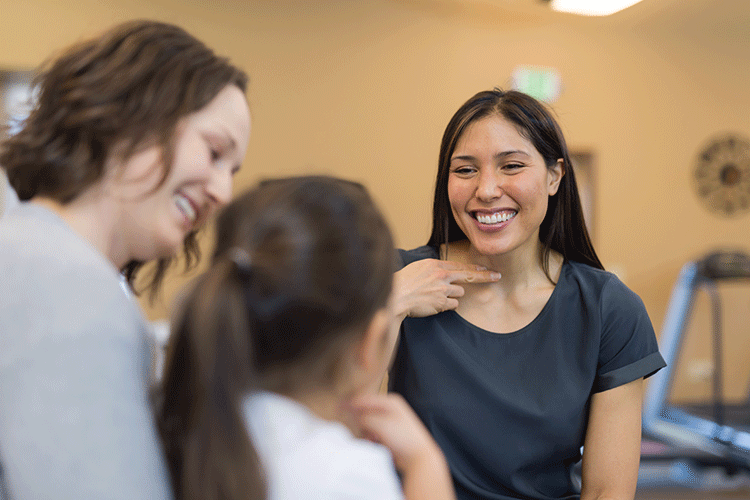 The Bachelor of Science degree with a major in communication sciences and disorders is blended with the Mount's broad liberal arts foundation to prepare students for a variety of careers. Upon graduation, students will be prepared for graduate studies in speech-language pathology or audiology, as well as careers working with children and adults.
A master's degree is the entry-level degree for professional clinical practice in speech-language pathology and a clinical doctorate is required for audiology. The program incorporates service learning and guided clinical opportunities where students can gain the skills and experiences needed for admission and success in graduate studies.
The curriculum integrates a sequence of interdisciplinary courses designed to provide a thorough understanding of typical human communication processes in both children and adults. This includes speech, language, and hearing development, anatomy and physiology of the speech and hearing mechanisms, the relationship between language and reading, and clinical observations.
Employment
Demand for speech-language pathologists is predicted to grow 27% through 2028 (Bureau of Labor Statistics, 2020), making the employment outlook very strong. Speech-language pathologists work in a variety of settings including schools, hospitals, private practices, skilled nursing facilities, and early intervention programs. Employment for audiologists is expected to grow 13% as more adult age and the population ages and their hearing is affected (Bureau of Labor Statistics, 2020). Audiologists work in hospitals, private practices, schools, and industry. 
As a part of the School of Health Sciences, the Bachelor of Science degree in Communication Sciences and Disorders offers an in-depth curriculum of courses, clinical observation hours, and a senior seminar.

FEATURED COURSES
Anatomy & Physiology of Speech/Hearing
Neuroscience & Communication Behavior
Phonetics and Linguistics
Seminar in Speech-Language Pathology and Audiology
Speech-Language Development
Theoretical Perspectives and Foundations in Literacy

POTENTIAL CAREERS
According to the U.S. Bureau of Labor Statistics (BLS), employment for speech-language pathologists is expected to increase 21 percent by 2024. Professionals in the field of communication disorders work in a variety of settings and industries, including medicine, education, and research.
In addition to speech-language pathology, this major also offers a strong foundation for careers in fields such as:
Audiology
Child development
Special education
Early intervention
School counseling
Education material development and promotion
Other health related professions.
Depending on the state, graduates with a bachelor's degree can apply for licensure as a speech-language pathology assistant (SLP-A). This license allows them to work under the direction of a certified, master's level speech-language pathologist in a variety of education and health-related settings such as hospitals, nursing homes, schools, clinics, and in private practice.
Darla Vale
Dean, School of Health Sciences
darla.vale@msj.edu
Office of Admission 513-244-4531 | 800-654-9314
msj.edu | admission@msj.edu