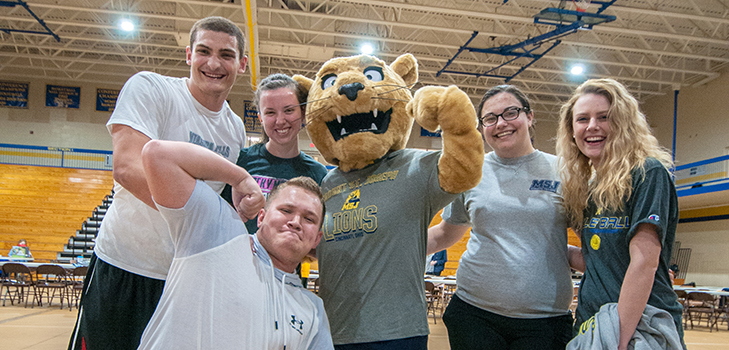 TRYOUTS
Do you have school spirit and want to be paid to share it with others? Try out to be Joe Lion! The Mount is looking for enthusiastic students who like to perform for an audience, are good with kids, and have a passion for their University.
Everyone's favorite mountain lion can be seen all over campus and at community events in Greater Cincinnati. Students chosen to be Joe Lion will be paid for every event they work and may also serve as Joe Lion's handler.
Be the Big Cat on Campus!
REQUIREMENTS:
Must be a full-time student at the Mount and have campus spirit 24/7
Must be in good academic standing
Must be a minimum 5'8" (due to suit restrictions for Joe Lion)
Must be in good physical condition, with good health
Must be good with kids (many of Joe's fans are under the age of 12)
WHAT DOES TEAM JOE LION DO?
Attend and entertain many of the home athletic events (football, volleyball and men's and women's basketball games, etc.)
Numerous community service events, paid appearances, miscellaneous events for the Mount.
Select Alumni events