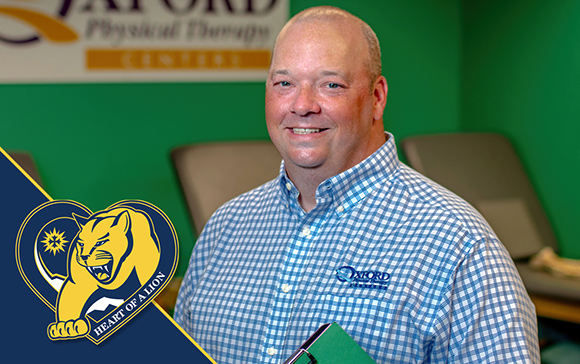 "The Mount's MPT Program prepared me for all of the incredible changes and advancements in physical therapy. I felt ready and relevant when I began my career."
By: Kathleen Cardwell
When Matt Ernst '00 MPT, OCS, COMT, began his career as a physical therapist, he believed there was opportunity for growth in the Cincinnati region. He also saw the paradigm of access to physical therapy changing. He was right on both counts.
"Many patients today are proactive about their health, including their needs for physical therapy. They know it is all about education, early action, and intervention. Patients often seek our services on their own, independent of a physician's referral."
Matt is currently a physical therapist and partner with Oxford Physical Therapy Centers, as well as the vice president of operations. Matt and his brother Tom, also a physical therapist and Mount MPT graduate, opened their first physical therapy center in Florence KY, in 2008, when they partnered with Oxford Physical Therapy who at the time, had 8 locations. Today, there are 15 locations across Cincinnati and 5 locations in Northern Kentucky. Matt works with patients two days a week and spends the rest of his time managing operations, growing his base of customers, and recruiting clinicians.
He's also active with Oxford at Work, a mobile work force that partners with the national organization Fit for Work, to assist construction, manufacturing, and transportation industries with a variety of PT-related processes, including onsite injury prevention and industrial ergonomics. Matt is also certified as a orthopedic clinical specialist, an orthopedic manual therapist, and a dry-needling specialist.
Matt was part of the Mount's second graduating class for the Master in Physical Therapy Program at the Mount, the predecessor to the Doctor of Physical Therapy Program. Over the years, the Mount's classroom and clinical curriculum in physical therapy has built a strong reputation and graduated some of Cincinnati's leading physical therapists, like Matt.
"The Mount's MPT Program prepared me for all of the incredible changes and advancements in physical therapy. I felt ready and relevant when I began my career. Besides a personal connection with the Mount—I met and married my wife there—I'm still involved with the PT program. I've been an adjunct instructor for several PT classes and I'm in my 5th year as a member of the Mount's PT Advisory Board."
Matt defines the success of Oxford Physical Therapy Centers as one his greatest accomplishments from two interwoven perspectives: business growth and an amazing team.
 "Our physical therapy centers are a growing business with a lot of potential, but we're also a family. The employees are dedicated to the quality care and best practices Oxford Physical Therapy is known for throughout the Tristate. Many of the employees were once patients. I think that says a lot, and I'm grateful to work with so many talented clinicians."
Their success has enabled Matt and his brother Tom to give back to their community. In 2019, they sponsored a Wounded Warriors fishing trip on Lake Cumberland, KY, for more than 20 participants in 22 Until the Valhalla, a suicide prevention program for veterans. For one participant, it was a remarkable re-awakening of long-ago memories of fishing with his father.
"That trip was incredible, and we were so blessed to be a part of it. Having a positive impact on another person is what it's all about. Working as a physical therapist enables me to make a positive difference in patients' lives so many ways."
Interested in the healthcare profession? To learn more about the Mount's DPT offering, visit the Doctor of Physical Therapy program page here.