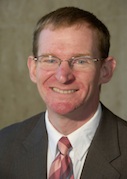 Professor
Department of Psychology
Classroom 12A
513-244-4862
jim.bodle@msj.edu
Degrees:
Ph.D., Miami University
Expertise: Aging and memory, storytelling and memory, group influences on memory
Biography:
Dr. Bodle is a professor in the Department of Psychology. He earned his doctorate in cognitive development at Miami University in 1996.
A faculty member at the Mount since 1996, Professor Bodle teaches courses in developmental psychology, cognition and history of psychology. His research has examined the influence of storytelling and aging on memory.